Select your baby's birth date or your due date.
Calendar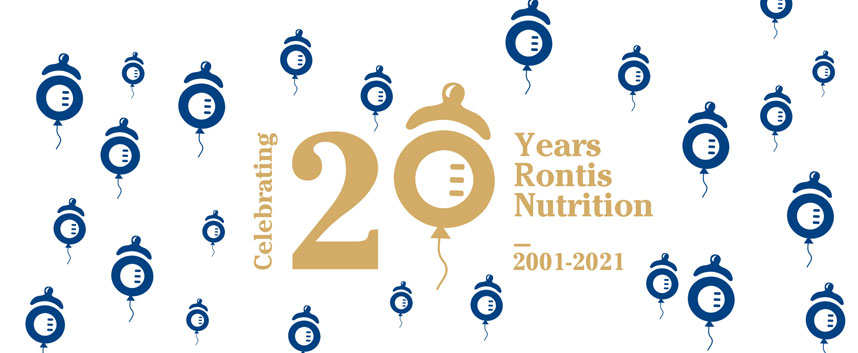 20YRS RONTIS NUTRITION
This year we celebrate the 20th Anniversary of Rontis Nutrition!
In the past two decades we worked tirelessly in researching, developing, and producing the most innovative nutritional solutions, using only the best science and nature have to offer!
We believe this is going to be an exceptional year for Rontis and most importantly for our partners and consumers worldwide.
In 2001 we entered the Infant Nutrition market with the vision to be recognized as the specialized nutrition company that helps mommies and daddies nurture the most important part of their lives and the future of our world.
By 2009 our company was established within the Top 3 Baby food companies in the South-East European region. Following our remarkable growth, Rontis Nutrition covered multiple geographies expanding its footprint to the Russian Federation in 2014, Southeast Asia in 2017, and the Middle East in 2019!
Over the course of the years, we have developed several Nutrition products for the whole family in collaboration with Nutrition Scientists and Institutes and the superior quality and efficacy of our products can be demonstrated by the publication of 5 scientific studies and protocols.
Now in 2021, we are still evolving and expanding our focus in Adult Nutrition Solutions with the goal to provide the global market and our partners with a complete Dairy nutrition portfolio for all age groups.
Our products have helped hundreds of thousands of families give their infants and babies the most complete nutrition during their crucial early development.
Our vision is to continue striving towards this goal while working on making adults life healthier as well!
Rontis will be celebrating in various ways, during this year, with our partners and end-customers! Let us all celebrate together!
12.05.2021
Recent News